Anna Twinney is the founder of Reach Out to Horses®, based in the foothills of the Rocky Mountains in Golden, Colorado.  As an internationally respected Natural Horsemanship Clinician and Trainer, Animal Communicator and Reiki Master she travels the world teaching the art of creating a trust-based partnership between Humans, Horses and all Animal Companions. She has conducted clinics, classes and training sessions in Australia, Canada, Denmark, England, Germany, France, Holland, Sweden, Spain, Norway, New Zealand and throughout the entire United States.
Anna will be in person at Equine Voices for two events.  
The Holistic Horse Day is held on Sunday, November 19th, 2023 from 10 am – 6pm. The minimum attendance for this class is 12 persons. There is no maximum.
Anna is offering an early bird special of $200 if booked prior to July 1st and $225 thereafter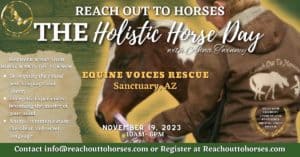 Energy Healing For Horses is held on Monday, November 20th from 10am – 6pm is . The maximum class size is 12 persons.
Prerequisite: Holistic Horse Day event.
Early bird special pricing $450 before July 1st and $475 thereafter.
To Register for either class: Reachouttohorses.com