Board of Directors
Karen Pomroy – Board President, Founder
Like many young children, I grew up loving animals, especially horses. I remember spending hours with my horses, brushing them, hugging them, jumping on their bare backs in the open field. My best memories were just being with them. I graduated from college with a BS in Business and Marketing which led me to various positions in the corporate world. The love of animals and the need to help them continued to grow over the years. I would wake up every morning thinking of ways I could make a difference in animals' lives, especially in the lives of horses. I knew the world was full of animal abuse and knew that someday I needed to make a difference.
In 1994, I quit my job and backpacked around the world for 18 months, primarily in third world countries. As I traveled, I saw how so many animals were mistreated, and realized that it was time for me to follow my heart. This trip changed my life. I knew I had to follow my path and leave the corporate world behind. I began by volunteering for a wild horse sanctuary in California, becoming part of the grassroots movement to help wild horses. The experience I gained from working with the horses and being part of this new organization, was beyond my imagination.
During this time, I learned about the plight of horses, all horses in America. I learned about the Premarin industry, the plight of Premarin mares and foals, and knew in my heart, that someday I would have a rescue and sanctuary to help the horses and to educate women about Premarin and natural alternatives to Premarin. Our companion animals are suffering needlessly, and because of this, I have decided to start Equine Voices Rescue & Sanctuary, a non-profit organization dedicated to helping save Premarin mares and foals from slaughter. The four babies we rescued in April 2004, have brought so much joy to our lives. Like us, they are all very different, in color, personality, and needs. I feel blessed to have saved them from a terrible fate and welcome all of you to view them on our web site and to come and meet them in person.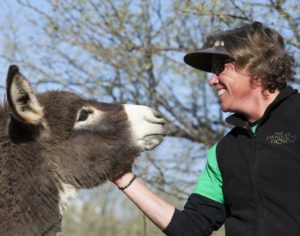 Diane P. Murphy - Board Chairman
Diane Murphy is a seasoned leader having been in executive roles with organizations in the aerospace, health care, telecommunications, and defense industries. She is currently with Raytheon in Tucson, Arizona leading learning and talent development efforts for one arm of their Missile Systems business.
Diane joined Equine Voices as a volunteer with her daughter in January of 2010. She spent her Sunday mornings "religiously" mucking and caring for the horses, donkeys, and mules through the summer of 2015 when she and her family relocated to Denver. She has returned to Tucson and to her Sunday morning routine, renewing her spirit each week by caring for the animals.
As a board member, Diane brings skills and experience in Marketing, Communication, Fundraising, Human Resources, and Operations to the Equine Voices team. She has participated on numerous boards in which she has led re-branding initiatives, cultivated donor engagement, engaged in successful capital campaigns, and partnered with management teams to drive improved operational performance into the organizations.
Throughout her association with Equine Voices, Diane has contributed money and time to support the health of the organization and the execution of its mission. She has a passion for animals, and especially enjoys spending time with those who have experienced abuse and neglect. Sharing love with those magical beings is a source of energy that she attributes to helping her maintain a strong sense of gratitude and balance in her life.
Jackie Cuyler – Board Vice President
Jackie is currently serving as Equine Voices volunteer coordinator. A lifelong resident of northern Virginia, Jackie began volunteering with Equine Voices in 2004 during a short stay in Arizona. After retiring from twenty years in law enforcement she has two passions, a love for every living creature, which she learned from her mother, and a love of history. Jackie currently has two feline friends, Katie Scarlett and Bobbie Lee.
Kerry Tomlinson - Board Treasurer
Currently Kerry works with small businesses in Southern Arizona providing QuickBooks consulting and a variety of accounting services including monthly sales tax reports, quarterly payroll reports, bank reconciliations and provides assistance with the pretax preparation of financial statements. Previously as a controller and an accountant for public and private businesses she has supervised all stages of the accounting cycle from daily input of sales figures and purchases to the adjustment and finalization of year-end financial statements.
Kerry has always been a lover of animals and has shared her home with many cats and dogs.
Kerry has been with Equine Voices since 2007 as their main bookkeeper handling all accounting functions for the organization. Kerry states that working with Equine Voices has provided her with an awareness of horses that has changed her perception of them. They are beautiful, playful beings with eyes that can look into your soul and reach you on a spiritual level.
Dr. Carolyn Crowder - Board Member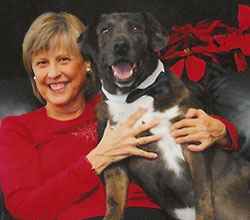 Carolyn Crowder, PH.D is a licensed psychologist and has lived and practiced in the Tucson area (now in Tubac) for the past 30 years. She received her doctorate from the University of Arizona in 1980. Since then she has worked in many different settings including juvenile court, public schools, university counseling centers, Las Familias, and the Department of Corrections.
Dr. Crowder specializes in parent training and is an Adlerian practitioner. She works with families to establish respectful, effective childrearing methods that are neither autocratic nor indulgent. She also maintains a small private practice and enjoys giving lectures about Adlerian principles to groups of parents, teachers, and mental health professionals. Her current interest is the excessive psychotropic drugging of children for behavioral problems.
Dr. Crowder has appeared on 20/20, Today, The Early Show, Dateline, NPR, and Lifetime Live as well as many local TV and radio programs throughout the country. She is the author of three parenting books, the national bestseller Backtalk (1998), Whining (2000), and Eating, Sleeping, and Getting Up (2002.)
Diane Russell - Board Secretary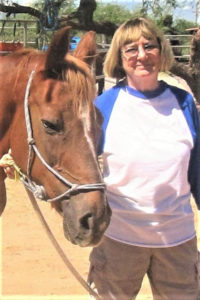 Diane received her BS degree in Aeronautical Engineering in 1971 from the Aero-Space Institute in Chicago. She then graduated from Air Force Officer Training School and was commissioned a Second Lieutenant. After active duty she joined Sikorsky Aircraft, a major manufacturer of military and civilian helicopters in Connecticut, as an engineer. Diane then earned an MBA degree from the University of New Haven in 1983. She continued to receive assignments of increased responsibility. As the Program Manager of a multi-million dollar helicopter night vision system, Diane was responsible for engineering, logistics, contracts, schedule, and budgets. 
During this time, she also pursued her first love, flying. She earned Flight and Ground Instructor Certificates and became a partner in a local flight school while teaching students to fly. Diane also continued her military career with the Air Force Reserve and was recalled to active duty in 1991 for Desert Storm. She retired as a Colonel, after 30 years of service, in 2001 and also retired from Sikorsky Aircraft the same year.
Diane and her husband John moved to Green Valley, AZ in 2006. Knowing she wanted to help abused and needy animals, Diane joined Equine Voices in October 2006. After many years of "mucking", she now coordinates tours of the ranch as well as publicity and volunteers for events and has been sponsoring Sunshine since 2007 when she arrived at Equine Voices from a Premarin farm. Diane also donates her time to Paws Patrol, a local cat rescue in Green Valley. John and Diane are the proud parents of a seven-year old rescued cat named Smokey.
Advisory Board
Anna Twinney
Anna Twinney is a Natural Horsemanship Trainer, certified Reiki Master, and animal communicator. Since being discovered by world-renowned Horse Whisperer "Monty Roberts", Anna became the only person ever to be entrusted with the title of Head Instructor at the Monty Roberts International Learning Center in California. As the founder of the Reach Out to Horses® program based in Golden, Colorado her expertise is sought by equestrian centers, trainers, managers, breeders, sanctuaries, therapists, and amateurs alike. Anna travels world-wide conducting classes and clinics to educate people & horses on gentle communication techniques while showing them how to have a true trust-based relationship.
Anna has been featured on Martha Stewart's "Living" TV show and in a BBC documentary, she also writes for national & international equine magazines. Anna brings a wealth of knowledge to her clinics - drawing upon a lifetime of equine experience, and a decade of coaching thousands of international students. Anna is unique in her field as she solely works in the horses' own language. She is not only one of the world's leading teachers, but her interest in the "Language of Equus" has led her to focus increasingly on the power of animal communication to strengthen and deepen our relationships with all species. Her DVD series "Reach Out to Natural Horsemanship" launched on Horse TV January 2007.