Nestled in the foothills of the Santa Rita Mountains of Southeastern Arizona, Equine Voices is home to horses and burros that were rescued from neglect, abuse, abandonment and slaughter
About Us
Equine Voices Rescue & Sanctuary is a 501 (c)(3) non-profit organization whose mission is to rescue equines from neglect, abuse, abandonment and slaughter. Additionally, we rehabilitate, adopt and/or provide a safe and loving sanctuary to those equines who need a forever home. Through education, we empower individuals to learn about Premarin and horse slaughter.

Learn More About Our Vision and Values…
Fly with us over Jumpin' Jack Ranch home to Equine Voices Rescue and Sanctuary! We are a sanctuary for equines of all backgrounds. We would like to thank everyone for their generosity and support over the last sixteen years. Our continued expansion projects will enable us to rescue more equines!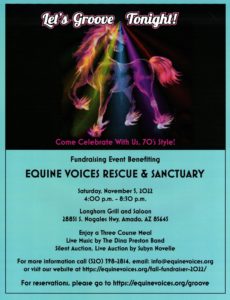 This event has ended, but we are busy planning for our 2023 event, tentatively scheduled for October 21st or 22nd. Stay tuned.  "Gimme Shelter" 
Read More
About Gulliver
Hi! My name is GULLIVER! I was eleven months old and one of seven PMU foals that lived in a pasture, on a PMU farm in North Dakota.
My owner had gone out of business because he lost his contract with Wyeth Pharmaceuticals, the big giant that makes the drug Premarin. He searched and searched for homes for us, but I was at the highest risk of going to slaughter because everyone thought I was big and ugly!
Join my Fan Club and learn all about me!
For $10 a month Join Gulliver's Fan Club…