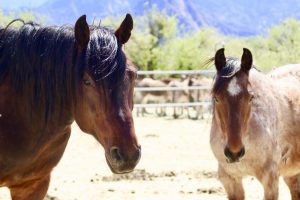 You may remember Aurora from Sleeping Beauty. Our little beauty is the smallest and shyest of the Devil's garden herd.
With our trainer's help, she's learning to trust humans. Every day, this sweet girl gets a little more confident. She can often be found standing by Braveheart.
Won't you consider sponsoring her for only $50 a month? Click here to SPONSOR Aurora!
Want to adopt Aurora? Click ADOPT to download the adoption form.
We'd love to tell you more about her. Give us a call at 520.398.2814.