Volunteer at Our Sanctuary
Our next ranch volunteer orientation class will be held in 2024. This page will be updated once dates are determined. Thank you. 
Have you ever wondered what it would be like to volunteer for a horse rescue and sanctuary? Do you love horses but can't have any of your own? Have you volunteered for equine rescue and sanctuary in the past and would like to again?
This may be your opportunity! Our efforts continue to grow, and we are looking for individuals who want to spend time helping the horses. There are many projects that need to be done, whether you like the outdoors and want to help build or paint fences, work in the office, help with a fundraiser event, or come and learn how to care for the horses, we welcome you!
Please complete the Volunteer Information form and the Waiver form below and one of our volunteers will contact you. Thank you for your interest in helping us help them!
The form and payment must be submitted the Friday (One week) prior to the orientation class you want to attend in order to reserve your seat in the class. Failure to complete the form, submission of payment one week prior to the orientation, and confirmation from Jackie Cuyler, our Volunteer Coordinator as to your attendance will result in delaying your participation. Any questions regarding our procedures or completing the form can be directed to jackiecuyler@comcast.net.
On the Web:  Complete the following form(s):
Volunteer at the Gulliver and Friends Boutique
Openings available.
No openings available until 2024,
A $25 non-refundable class fee is required.  You will be redirected after completion of your Volunteer at the Ranch Form to make this payment.
If you choose to make the $25 payment separately, you may use this LINK
Your class fee will cover the cost of your first T-shirt and Volunteer Handbook.
Waiver - required for volunteering at the ranch.
Please note that a separate form must be completed for each person and cannot have multiple names on the same form. Also, effective immediately, all volunteers must be 18 years or over.  Those current volunteers under 18 will be grandfathered in.  Thank you!
Our volunteer orientation and safety classes are held on the second Saturday of each month. Come and learn about our volunteer opportunities and see how you can help the horses at Equine Voices, take a tour of the ranch and enroll in our orientation/safety class.
2023 Upcoming Orientation Classes
Saturday, June 2nd
Saturday, July 8th
Saturday, August 12th
Saturday, September 9th
Register now in order to guarantee your seat.  We look forward to having you as part of our volunteer family!
For more information please contact Jackie Cuyler at jackiecuyler@comcast.net or
call the office at 520-398-2814
Youth Program
*Our youth program is currently on hold.
Our Youth Program is designed to enlighten young people about the current plight of the American horse, provide physical activity away from computers and television, and teach responsibility, compassion, and the innate connection between humans, horses, and nature.
For Parents: As someone who has taught effective parenting methods for 40 years, I want to point out to you the benefits of training and encouraging your children to think of the needs of others, including animals. Read More Of This Article By Carolyn Crowder, PhD. 
In Balance Ranch Academy
Casa De Esperanza
Eagle Scouts of Rio Rico
Girl Scouts of Tubac
Click on the links above to view pictures from that particular youth group's visit to Equine Voices!
Desert Christian Middle Students Visit Equine Voices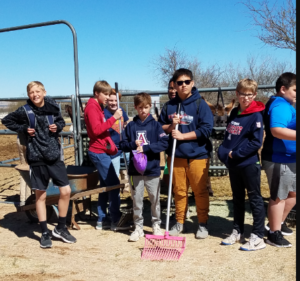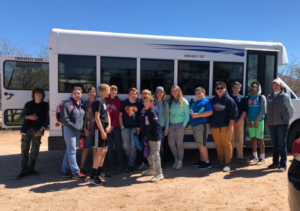 On Thursday, March 14th middle school students from Desert Christian Middle School visited Equine Voices. They toured the property with guide Diane Russell, visited with our rescued horses and learned their stories. They also were of service to us, accomplishing their own mission during service week while learning about our mission of horse rescue and giving a "voice to the voiceless."
We truly enjoyed having you here, Ms. Foxworthy and students, and hope to see you again soon!
Volunteer Notes
I wanted to let you know how much I've been enjoying the 2-4 pm shift with Jean. She is such an excellent manager and I feel so comfortable working under her leadership. The sense of peace and contentedness I gain from volunteering at Equine Voices is a rare gift, as is the opportunity to contribute to the well-being of the horses. Thank you for your efforts and caring spirit.– Heidi