In March of 2004, while living in California, I received an email from a friend in Phoenix urging me to look on the internet at a Premarin foal that needed a home. She and I had met through the internet, as I wanted to adopt a PMU mare she had been interested in, but the plan didn't work out! Her email referred me to a web site featuring mares and foals that were running out of time. That's also where I met LeAnn Souser from Shady Oaks Ranch in Texas.                                                
         "Bella Luna" – March 2004                                    "Harkies Deuce" –  March 2004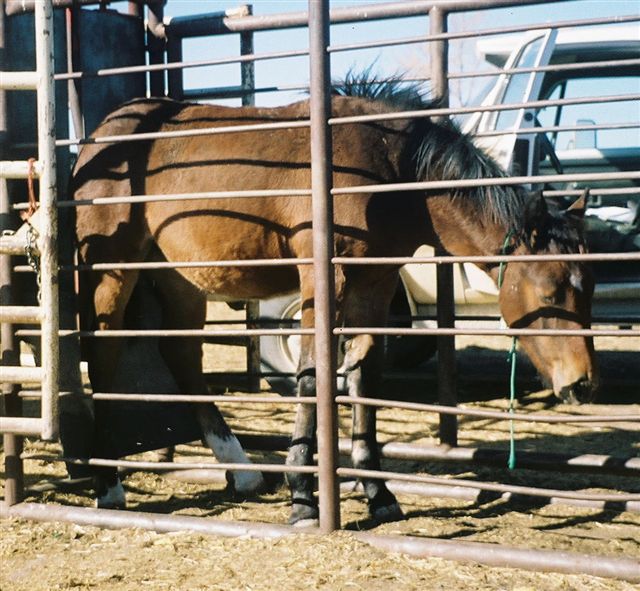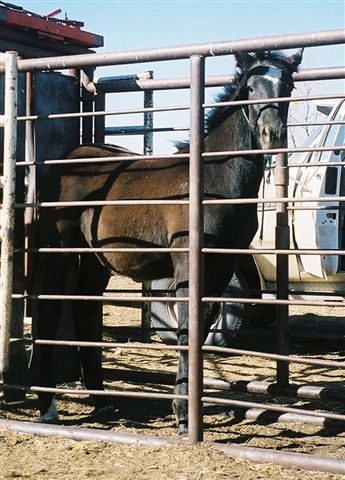 "Gullliver" – March 2004                                       "Spanky" – March 2004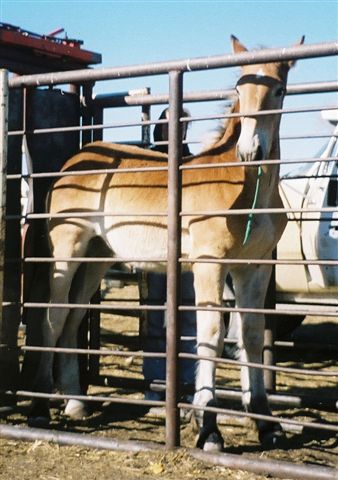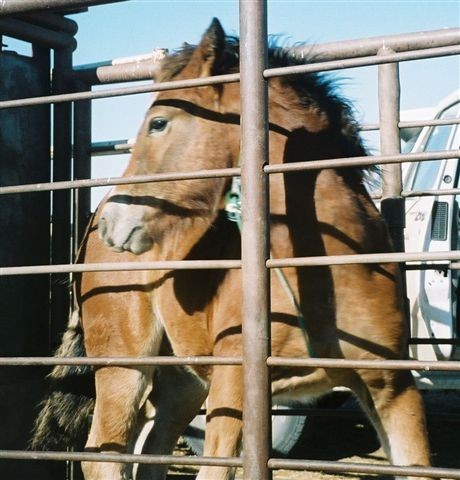 There were seven foals left on this PMU farm, the farmer went out of business and had worked closely with individuals and non profit groups to find homes for his mares and foals. He was in North Dakota. Well, when I began looking at the babies that were left, I couldn't imagine that those innocent creatures were about to be sent down the road to an auction! The "killer buyers" love PMU horses because they grow up to be so big. You know, the bigger the better, the bigger the more money per pound!
       (Bella Luna at Equine Voices – May 2004)

As I looked at their faces, I knew I had to do something! I figured I was able to save two babies from a horrible fate, but as fate has it, I ended up with four! When I told my husband Randy what I was up to, he just shook his head and said, "We can't afford to board our two horses and four more, it's just too much!" I asked him to sit down and look at the babies online, and he was hooked. Gulliver was the one no one wanted, his picture made him look so pathetic, and I knew if we didn't take him, he definitely would have ended up in France or on some other European country's dinner plate. Randy said, "We must adopt that one!" He was big, and he was going to get bigger! Again, price per pound!! In the meantime we had been looking for land, again, as fate would have it, we came to Arizona on a fact finding trip and found this small ranch, big enough to accommodate our two and the four PMU babies!!
The deadline to adopt the babies was April 10, 2004 or they were heading down the long dark road to "horse hell". Thanks to LeAnn Souser, we arranged for the adoption and worked diligently to find a responsible, caring transportation company. The outlook was grim, no one would pick up four babies and deliver them to their temporary destination in Phoenix. A bit worried, I knew it would be ok. I received a call late one night from LeAnn telling me there was a man picking up a PMU mare and delivering her to Colorado and that he had room on his trailer, we decided at that moment to have him pick up the babies too. 
The man, Jack Heinsohn, not only picked up the babies, but he drove through extreme winter snow storms to Colorado and took the babies to his ranch in New Mexico, and kept the babies for over a month, until we moved to Arizona! Because of Jack's kindness, Gulliver, Spanky, Bella Luna and Harkies Deuce made it to Arizona safely. They are the foundation herd for Equine Voices Rescue & Sanctuary™, Inc., it is because of them, we exist, and because of them we have dedicated the rescue and sanctuary to saving Premarin mares and foals from slaughter.