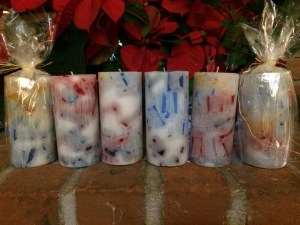 On Wednesday, December 3rd, we gathered together to enjoy a beautiful evening to celebrate the joy and spirit of the holidays, fellowship, the horses and individual candle making. The Candle Factory is a unique candle boutique offering incredible candles of all scents, sizes and shapes. Owned and operated by Dominique and Christina Cooper, the candle factory has a festive atmosphere and is illuminated at night to celebrate this holiday season.
A percent of the day's sales and evening proceeds have been donated to Equine Voices Rescue & Sanctuary in support of the horses in our care. For those of you who could not attend, we hope you are able to stop by the store and meet the owners Dominique and Christina and enjoy the scents of the season, or join us in February for a Valentine's gathering in support of the horses.
For more information about the Candle Factory, log on to www.candlefactorytucson.com or call
520-207-6178.