Anna Twinney is a certified Reiki Master, animal communicator and Founder of the Reach Out to Horses® program based in Golden, Colorado. She travels world-wide conducting classes and clinics to educate people & horses on gentle communication techniques. Anna writes for national & international equine magazines and her DVD series "Reach Out to Natural Horsemanship" can be purchased from our gift shop.
The following is an overview of Anna Twinney's courses.
For more information contact: 520-398-2814 or karen@equinevoices.org
---
Holistic Horse Day
The universal communication between humans and horses, known as horse whispering, involves body language, listening to your intuition and understanding the laws of energy. It requires an in-depth understanding of the horse's temperament and character. Patience, kindness and affection are balanced with gaining respect. Watch, participate & learn how to communicate with individual horses.
"De-Mystify the Round Pen"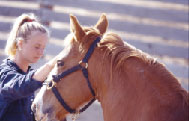 Create the ultimate foundation with your horse
The importance of herd dynamics & behavior
Body-language and energy talk
Create a 2-way communication system
Learn to use your eyes like a pro
Determine when the RP is NOT the right tool
Understand how horses perceive your actions
Discover the how's behind the why's
Find out how to "Mirror" or "Match" your horse
"Muscle Testing"

Learn about the body, mind, spirit connection
How your thoughts, limitations and beliefs affect your daily life
Get direct feedback from your body – the body does not lie!
The power of visualization and its connection with your horse
How to test your horse for any supplement, feed or deficiency
How to address energy blocks
"Animal Communication"
Discover the ability to connect with another being
Steps to uncover your innate gift
Insights into this new language of images, emotions, thoughts…
And the scientific perspective
When to utilize the services of an animal communicator
How to enhance love, respect and understanding between you and your companion
Share thoughts, ideas, feelings & messages
Understand their perspective on situations
Reasons behind behavioral issues & resolution techniques
..and much, much, more!
Unlimited participants – partial "hands-on"
---
Simple Solutions Clinic
Reiki I & II Certification Course
Firm but Fair?
Compromise vs. Conflict?
Kindness vs. Boundaries?
These are the questions that people often ask, especially when surrounded by "rescued" horses. Knowing what to ask, when to ask it and how to ask, is the key!
So often people believe that their love and kindness can overcome their horse's past experiences. While their past might explain behavior, this love alone can cause dangerous situations which escalate. Horses have their own language and their own protocol and by humanizing behavior, we often misunderstand their true communication. Accidents can occur with a blink of an eye. Concern arises for the sanctuaries as to how to maintain proper safety standards and take care of the horse's needs and desires while ensuring proper handling.
Learn to: 
Understand equine body language for your own safety
Safely interact with horses in a herd environment
Horse signs and signals that do not equate to "Loving you"
How your emotions affect a situation
Safe horse handling
How horses perceive the world
Our horse's expectations
Correct & safe leading
Handling the herd bound horse when away from his pasture
Balancing our relationship
Handling disrespectful horses
Unlimited spaces with demos, lectures and some hands-on for selected parties.
---
Animal Communication Workshop
Have you wanted to know what your horse was thinking?
Maybe you'd like to know why your cat seems to be moping around? Or perhaps you want to make sure your dog likes his new home. Whatever your questions now is the time to ask them all. Welcome to the world of Animal Communication.
Animal Communication, also known as interspecies communication is the ability to telepathically connect with a being of another species and literally communicate with them using images, feelings, thoughts, emotions and even words.
Anna will introduce you to this mind-blowing, yet very practical and useful skill.
During this 1-day workshop you will learn how to:
Listen to your animal companion
Gain new insights into who they really are
Share thoughts, ideas & feelings
and much more…
This heart-to-heart connection can be learned and experienced by everyone. It simply takes an open heart, open mind and a willingness to listen to the animals. You can experience the beauty and harmony that is possible when you open up and realize that all living creatures are intelligent beings, with their own feelings, emotions, thoughts, desires and perceptions of life.
Learn how to greatly enhance your relationship with your animal companions and bring great joy and happiness into your life.
---
Reiki I & II Certification Course
Reiki, translated from Japanese as "Universal Life Force", is quickly becoming one of the most popular alternative healing modalities in the world. Already used in clinics, private practices and hospitals around the globe, people are waking up to the amazing benefits that Reiki can provide.
Developed as a healing art in early 20th century, Reiki is a holistic, non-invasive technique that heals on all levels of body, mind and spirit. In addition it can enhance other modalities of healing, both traditional and alternative, alleviate pain and has been proven to reduce stress in both humans and animals.
With this unique style of energy healing you can: 
Alleviate stress, fears, worry and frustrations
Assist the body in cleansing different types of toxins
Help people break unwanted habits or conditions like smoking, overeating and alcoholism
Work on anything from your pets, house plants and even your computer!
During the two-day certification course Anna will conduct a comprehensive exploration into this Universal healing art. You will discover exactly what Reiki is and how to use it to heal yourself and others.
Topics that will be covered over the 2-day workshop include:
The History of Reiki
Level I & II Reiki Attunement Symbols
The Proper Use of Reiki            
Starting a Reiki Practice
Body and Energy Scanning
Chakras: What they are and how to use them
 Distant Healing
And More!
And everyone who attends the workshop gets a full Reiki healing session so you can experience the amazing power of Reiki for yourself.
Through Anna's fun, powerful and nurturing style she will guide you to your full potential and help you discover what you might never even have thought possible! Whether you haven't worked with Reiki before, feel it's time to take the next step or you want to take your Reiki practice to the next level, this is the workshop you've been waiting for.
---
Reiki for Horses
After you attend the Reiki I & II Certification Course why not put your new skills to use?
One of its most effective uses is in the healing of horses. Horses and other animals in general are great clients for energy work because they don't have any preconceived notions or skepticism that often get in the way of human receptivity. An animal is simply present to the experience. If it likes it, it likes it and if it doesn't it leaves: It's as simple as that.
We have found that most horses love Reiki. They will quite often relax into the healing session, lower their heads, keeping a leg cocked in a relaxed position and even close their eyes as they enjoy the sensation. Many times you can even hear their stomachs gurgle as the healing energy flows through them, clearing energy blocks as it goes. And when they have had enough, they will often let you know by "waking up" and sometimes even walking away.
During the workshop you will learn how to:
Ask for "permission" from your animal companions
Set up a safe Reiki session
Scan your horse's body
Locate chakras
Listen to your horse and read his body gestures
Recognize the duration of sessions
Liaise with friends & clients
Share Reiki experiences and stories
Remember that Reiki is not intended to be a substitute for Western medicine and a vet should always be notified in cases of illness and concern. But it is a powerful tool and can assist on many levels of healing.
Join Anna for this very special day as she shows you the most effective way to apply your Reiki skills to the horse. This is also a great opportunity to review your skills if you are a little rusty or maybe feel like you need a little more instruction. Improve your skill set, increase your confidence, help a great organization and heal some horses!
Minimum of Reiki I Certification required. 
---